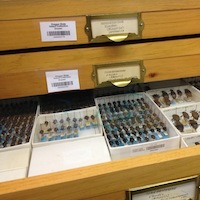 Housed on the fourth floor of Cordley Hall, the Arthropod Collection at Oregon State University is the largest repository of Pacific Northwest insects in the world. Estimated to possess between 2.7 and 3 million specimens, the OSU collection ranks among the top university owned insect collections in the United States. The collection has broad taxonomic representation with exceptional holdings among the Coleoptera, Lepidoptera, Diptera and Hemiptera- strengths which largely reflect the academic interests of past faculty and curators. The majority of material originates from the Pacific Northwest, however the collection also has many specimens from Europe, Asia, Central and South America and Australia.
The collection owes its present day stature to the efforts of OSU faculty, students (past and present) and through a number of significant donations from private donors and other institutions. The history of the collection from its inception in the 1800's to the late 1980's was compiled by Gerald M. Adams and will soon be available in electronic form at this site. We are also compiling a list of significant donors/contributors to the collection which will highlight not only the specimen donations but major curatorial accomplishments.
Digital Access to OSAC holdings: The estimated 2.7 million specimens that constitute our holdings are currently not available electronically. We expect to have limited access to some of our holdings (beetles and Lepidoptera) by the fall/winter of 2008. Providing digital access to our material is a major priority for us, and our chief task is to generate the actual digital data. Althgouh various parts of the OSAC have been databased in the past, this has never been done in a way as to be easily 'verified' or reliably updated. Now that we are provisioning all our specimens, unit trays and drawers with unique serial numbers, the data associated with our holdings can be inventoried, managed and disseminated.
To accomplish this task, OSAC has hired a number of student workers who are actively databasing our collection. Last year, 8 students, working 10 hours a week databased our entire beetle collection. But this is only the first step in a longer process; before we can make this data available to the public or research communities, the more than 15,000 species names need to be checked for errors (both typographical and nomenclatural). Once verified, they will be converted into a form that will allow users to search through them easily via a web browser. We currently expect that the entire collection will be inventoried, and available for searching online, within 3-5 years; but until then, please send us the names of organisms you are interested in and we will use the age old 'data retreival' system known as 'human labor' to search our holdings for your desired taxa.